HDMI cables for connections Audio / Video Digital to long distances
long lengths up to 100 meters
Cables of high quality, suitable for distances greater than 10 meters while maintaining perfect images even at high resolutions.
Different solutions based on the needs of passage in a raceway or length. Large sections of cables for direct connections, cable repeater with internal or hybrid cables with fiber optic cables finally also tailored to match the extender / amplifier HDMI.
For links 3D or 4K it may be necessary to match the equalizer / amplifier to the cables not equipped with them.
For more details see article Cables and HDMI connections
Cavo HDMI High Speed Amplificato M/M 25mt.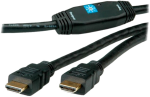 ICOC HDMI-A-250
---