Programmable selective amplifier, 10 UHF filters, input BIII + FM, ampl.40-50dB
Description
10 UHF programmable filters
Each UHF filter can amplify 1 to 6 adjacent channels
Gain 40 to 50dB (1dB steps)
Programming via 8-digit display
Maximum output 123 dB
| Code | Feat. | Finish | Availability | Price | Quantity |
| --- | --- | --- | --- | --- | --- |
| AMP 150 | | | discontinued | 459,77 -13% € | not buyable |
Related Items
More Details
10 programmable UHF filters.
Each filter can be programmed to UHF channels is between C 21 and C 69.
Each UHF filter can be configured to amplify 1 to 6 adjacent channels.
Fully shielded container, made of die "Zamak".
BIII inputs and FM.
UHF gain overall from 40 to 50 dB (in steps of 1 dB selectable through software).
Association antenna inputs / filters controlled by software.
Simple programming via 8-digit display with simultaneous indication of all the parameters of a filter (filter number, atenuazione, channel top and bottom) in a single line.
Ability to save 10 settings on the memory card to copy and recall system configurations and speed up the installation of the product in typical installations.
Simple maintenance / replacement of the power supply network just by removing four screws and no need to disconnect the antenna cables.
Auto power off preamp internal antenna unused inputs in order to reduce energy consumption and prevent possible disturbances.
Input stages Gallium Arsenide low noise.
Gallium Arsenide output stages high-level and low intermodulation.
Switching power supply with high efficiency.
The use of the electronic programming "One Shot", instead of programming sequential sample and hold according to industry standard, allows a faster setting of the filters and a reduction of the ripple noise residue.
Fully compatible with digital and analog programs.
Programming access protected by password.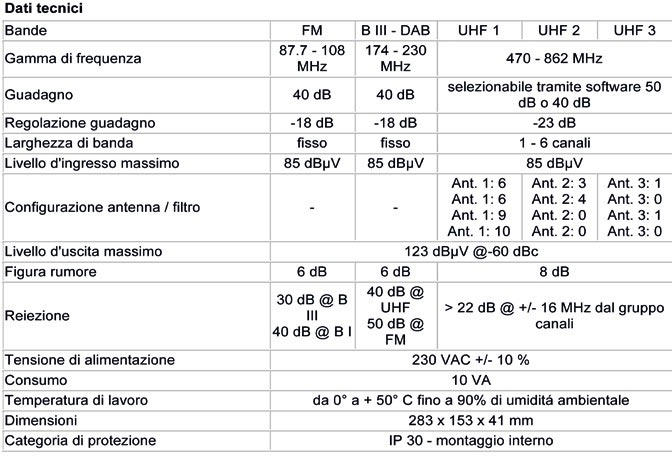 ---