More Details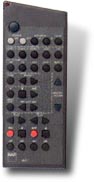 NAD has always had a formidable reputation when it comes to quality, budget amplifiers. The NAD 3020 in its various guises, and more recently the NAD C320 and C340 all have received world-wide accolades for their outstanding performance and superb value. As an encore NAD is proud to present a new amplifier, further enhancing that reputation: the C350.
60W x 2 Continuous Power (8 ohms)
135W, 190W, 240W Dynamic Power into 8, 4 and 2 ohms respectively
Impedance Sensing Circuit (ISC) topology
Full System Remote control including Stand-by/Off
Headphones socket
Relay Input Switching
Toroidal Power transformer
7 Line inputs, including two tape in/outs
All Discrete circuitry
Short signal path from input to output
All sockets Gold plated
Tone controls defeat switch
Main-amp input & 2 pre-amp outputs
Soft Clipping
NAD Link
Features
The C350 is fully remote controlled and comes supplied with the NAD C Series system remote control. As the C350 also has NAD Link the remote control will also operate many other NAD products such as CD players, tuners, etc.
Flexibility is another NAD strong point. The C350 has 7 line inputs (including 2 tape in/outputs with dubbing facility) and the pre-amplifier section can be separated from the power amplifier for easy upgrades or adding ancillary equipment. Thus the C350 can be expanded to meet future system needs. The C350 sports 2 pre-amp outputs: Many stems benefit from the use of multiple power amplifiers for "Bi-Amping" (using separate power amplifiers to drive the bass and treble section of a loudspeaker). With the second Pre-out 2 facility an extra power amplifier, such as NAD's forthcoming C270 -which has identical amplification factor (gain) as the C350's power amp section- is easily connected.
For remote on/off switching of ancillary components in a system, such as power amplifiers or active speakers, the C350 is equipped with a 12V-trigger system. When switching the amplifier on, the 12V-trigger output is also activated which in turn can activate a 12V-trigger input and switch on the remote devices. Besides the 12V-trigger, the C350 also has an AC switched outlet (North American version only) so you can easily switch your entire stem on or off with the remote control or from the front panel.
It is fashionable to omit tone controls nowadays: However, provided that the tone controls are properly designed, they can be really useful tools to make improvements to the overall sound. The C350 tone controls only work at the frequency extremes leaving the critical mid-band essentially unaltered. The tone control circuits can be completely bypassed by using the tone defeat switch.
The C350 also incorporates NAD's acclaimed switchable "Soft Clipping" circuit, which significantly reduces the risk of damage to loudspeakers due to prolonged high power operation.
Design: Impedance Sensing Circuit (ISC)
The C350 also benefits from NAD's proprietary Impedance Sensing Circuit (ISC) topology, now well established and used throughout the NAD product range notably in the highly reviewed models such as the C320 and C340.
The ISC topology allows the C350 to deliver maximum performance under virtually any circumstance, independent of the loudspeakers it is driving. The circuitry automatically recognises the impedance characteristics of the loudspeaker and will then adjust its power supply settings to best cope with that specific load. This also gives it an unusual characteristic compared to traditional amplifiers when measuring its continuous output power; the RMS output power remains the same at 60 Watts with either an eight or a four ohms load. This is not unusual for NAD however.
NAD takes a stance to the mindless "brochure power" approach which doesn't give a realistic indication of an amplifier's true capabilities. Instead, the ISC topology is a practical approach to enable an amplifier to easily deal with dynamics and difficult loads. More meaningful are the C350's dynamic capabilities; up to 240 Watts into 2 ohms and up to 55 amps peak current capability!
Other design features include relay input switching (located right behind die input sockets for short signal paths) and the large toroidal transformer (less mechanical hum and stray magnetic field). The generous power supply and over-rated output devices further lead to low noise and low distortion for the entire amplifier. Like all the other in and output sockets, the Pre-out/Main-in sockets are gold plated for long-term contact reliability. The headphone socket will drive virtually any non-electrostatic headphone.
Technical Specifications
Continuous Average Power Output into 8 ohms
60W (17.8dBW)
(Min power per channel. 20Hz - 20kHz both channels driven, with no more than rated distortion)
Rated distortion (THD 20Hz - 20kHz)
0.03%
Clipping power (maximum continuous power per channel)
70W
IHF dynamic headroom at 8 ohms
3.0dB
IHF dynamic power (max short term power per channel)
8 ohms
135W (21.3dBW)
4 ohms
190W (22.8dBW)
2 ohms
240W (23.8dBW)
Damping factor
ref. 8 ohms, 1 kHz
>150
Frequency response
20Hz - 20kHz
±0.3dB
THD (20Hz - 20kHz, from 250 MW to rated power)
<0.03%
Input impedance line inputs
R and C
50k ohms /320pF
Input sensitivity
ref. rated power
215mV
Signal to Noise ratio
A weighted; ref. 1W
95dB
A weighted; ref. rated power
112dB
Preamp output impedance
100 ohms
Tape output impedance
Source Z + 1k ohms
Headphones output impedance
220 ohms
Treble control
±5dB at 10kHz; ±0.5dB
Bass control
±6dB at 100Hz; ±0.5dB
Physical Specifications
Dimensions (W x H x D)
171/8'' x 3 15/16'' x 117/16''
(435 x 100 x 290mm)
Net weight
25.3 lbs (11.5kg)
Shipping weight
28.6 lbs (13kg)
Power consumption
350W