More Details
A Great Media Player with Great Analog Sound!
We think that you are going to love this idea. That's why we are here – at Kickstarter, together with you, to make our dream comes true. With your help, we can deliver you this amazing Networked Media Jukebox that can boast greater detail and texture of the original performance. We believe that you'll surely enjoy playing it for decades. We're absolutely thrilled to be here and we hope that you'll join us by pledging us!
At CLOUD MEDIA, we have always had a passion for visual experience. When we press play and watch our movie, we enable ourselves to be taken away to a place that transcends reality. Our senses are the most fascinating abilities we hold that they allow us to experience new and exciting pleasures. Over the course of the past decade, we have been striving to provide the best of the best visual technology to our audiences.
SO Why would we need multiple devices when we can have all in one?
To merge high fidelity stereo audio for music and visual stunning media player into one – sounds like a plan!
VOILA! A versatile Networked Media Jukebox that could deliver astounding sound for music-listening and superior video quality for movie!
Popcorn Hour A-500 PRO is a Networked Media Jukebox designed by and for MUSIC and MOVIE lovers.
The Glory of Superior Analog Sound
Sound accounts fifty percent of our auditory experience. That's why our audio DAC is every bit as important as the resolution on our TV.
We want to synthesize good sound and together with you, we enjoy this greatest treasure in the world – The Sound of Music.
The sound that is full, warm, and airy - with best in class ESS SABRE³² Audio DAC, ES9018K2M. With ESS patented 32-bit Hyper-Stream TM DAC architecture and Time Domain Jitter Eliminator technology, the SABRE³² Reference Stereo DAC delivers unprecedented DNR (Dynamic Range) of up to 135dB and THD+N (Total Harmonic Distortion plus Noise) of -120dB, the industry's highest performance level that will satisfy the most demanding audio enthusiasts.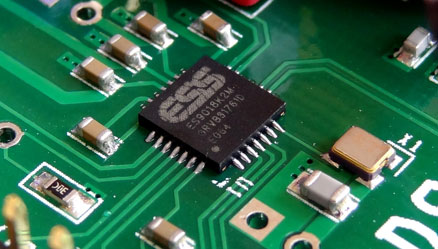 Our goal at Popcorn Hour A-500 PRO is to develop an output stage that is vibrant, great in resolution, better top-end extension and openness, greater bottom-end weight and control, and explosive dynamics with a clarity or ultralow distortion and transparency thereby it will weld your bottom end to the listening chair.
With reliability, consistency and accessibility in mind, our hardware engineers delicately design the analog circuit of the signal path for the outputs to convey the best possible impression, acoustically.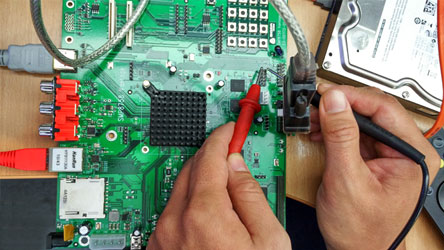 Variations are always one of our top priorities! Popcorn Hour A-500 PRO is designed with discerning audiophile taste in mind! We've made even further sonic strides!
With three analog outputs –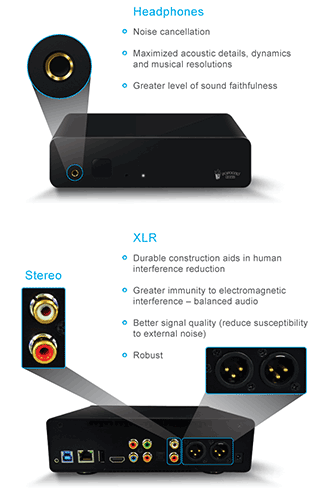 Analog Audio Diagram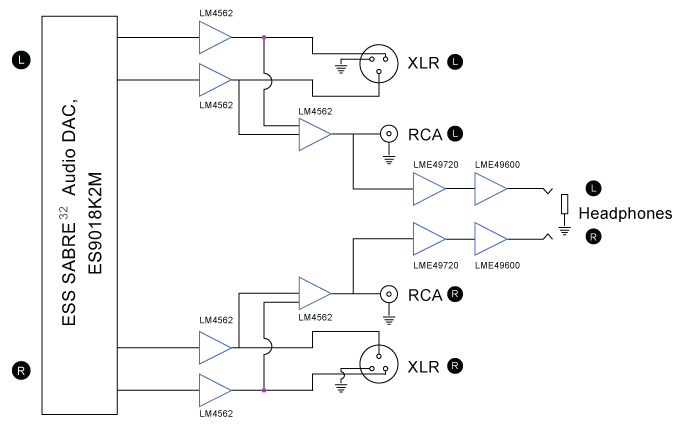 This is the world first media player with XLR analog output! COOL!
Complement XLR in media player is a simple idea, but we believe it can impact the world in a BIG way. This is a new start up, that's why we need your help. All it takes right now is a PLEDGE on Kickstarter!
WELL, WE know how annoying staring at fizzle display for hours! To ensure we all can enjoy an immersive cinematic experience, we have made the new Sigma SMP8758, 1.2 GHz ARM Cortex-A9 Dual Core and VXP the part and parcel of Popcorn Hour A-500 PRO.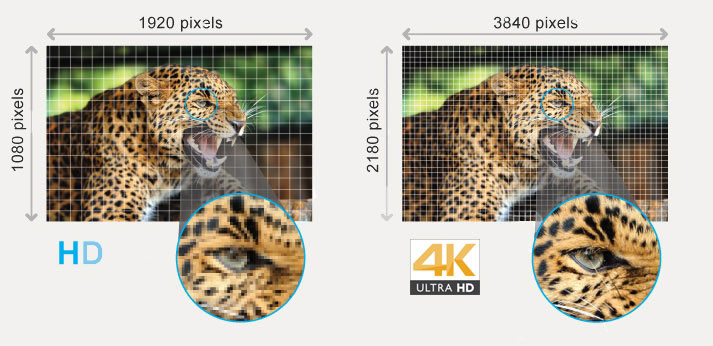 SMP8758 SoC from Sigma Designs supports Ultra HD 4K resolution using HEVC (H.265) compression technology. We designed Popcorn Hour A-500 PRO with 1.2GHz ARM Cortex-A9 Dual core for 3D acceleration, flexible communication interfaces and robust display solutions. Good speed and transient response for immediacy or snap of live are all we ever needed! Satisfaction assurance on visual experience through the integration of VXP video processing for the best in class display! No worries!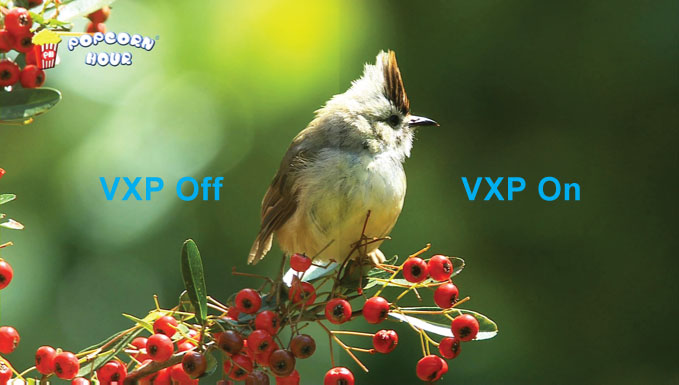 Pledge now to make Popcorn Hour A-500 PRO comes alive and watch your favorite shows like a boss with Popcorn A-500 PRO that gives you a fine detail, greater texture an almost photographic emulsion of smoothness image clarity with 4K Ultra HD Display.
All we need is a HDD Docking Tray!
We understand that recent years, users have expanded their needs to store video and music files locally. Therefore, we've built in easy-slide HDD tray for hard-drive transportation.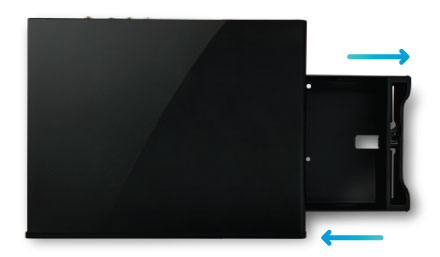 We can now plug our hard disk straight into the docking tray and benefit from a quick and easy means to connect and read data NOW!
Simple Design, Intense Content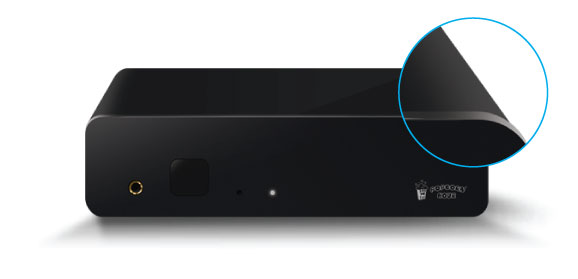 Popcorn Hour A-500 PRO employs fanless passive cooling strategies for a quiet and low energy consumption performance. Build with a passively-cooled, brushed aluminum chassis, Popcorn Hour A-500 PRO is a stylistic design with tangible first class surfaces!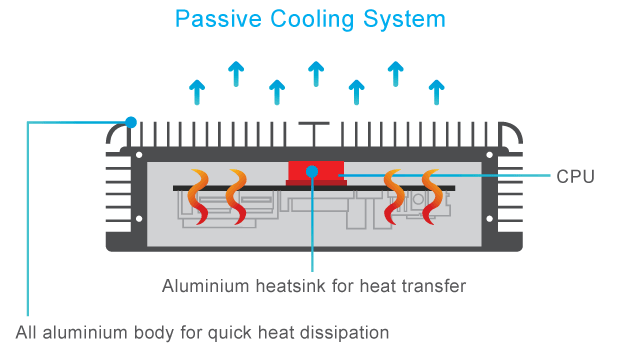 Impressive hardware is only half of an equation. A good user interface (UI) is the other half. Popcorn Hour A-500 PRO is designed with optimum performance in mind – as friendly and playful as it is easy and effective to use.
Movie Jukebox and Music Home Screen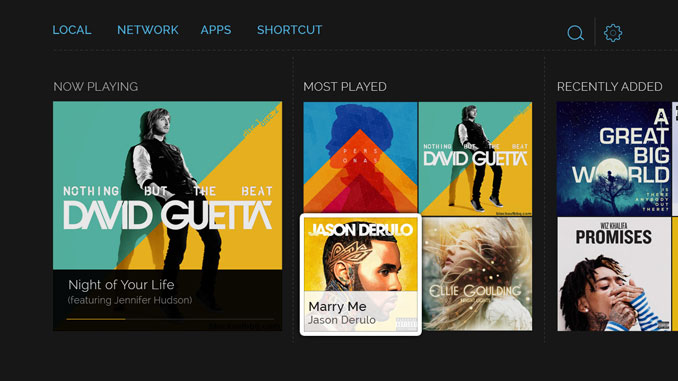 We want you to be more invested in what you are listening!
Without having to turn on our TV, we can now take our audio content and play them back from our mobile app!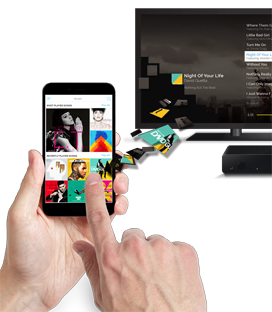 Hey! One more thing! Popcorn Hour A-500 PRO is designed with dual-boot concept. We can now boot into Android to enjoy applications from Android ecosystem.

Technical Specs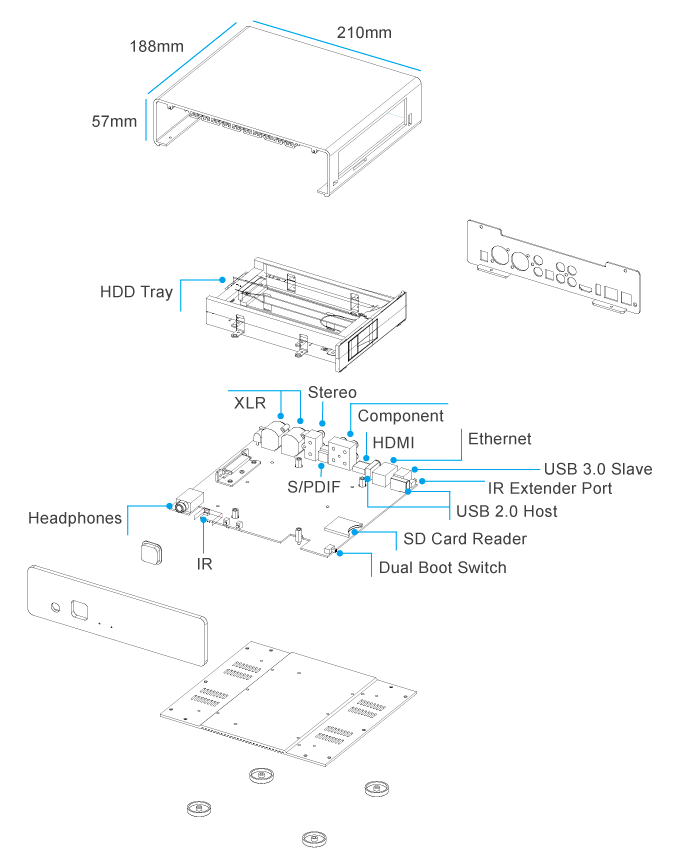 Chipset: Sigma Designs SMP8758
CPU: 1.2GHz ARM Cortex A9 Dual Core
Memory: 2048MB DDR3
GPU: Mali400 MP4 1600MPix/s
Video Support: M1V, M2V, M4V, M2P, MPG, VOB TS, TP, TRP, M2T, M2TS, MTS, AVI, ASF, WMV, MKV, 3DMKV, BD ISO, 3DBD ISO, DVD ISO, MOV, MP4, RMP4, HEVC
HEVC Decode: Main Profile @L4.1, Main 10 Profile @L4.1
Audio Support: M4A, MP1, MP2, MP3,

MPA

, WAV, WMA, FLAC, OGG, TTA, AAC, DTS, DSD, DSF, SACD ISO, HD Audio Passthrough
Digital Audio: Optical &

Coaxial

S/PDIF, HDMI
Analog Audio: Stereo, XLR, Headphones
Analog Audio DAC: ESS SABRE³² Audio DAC, ES9018K2M
Headphone Amplifier: Texas Instruments LME49600
Picture Support: JPEG, BMP, PNG, GIF, TIFF
HDMI Output (Max): 3840x2160 30Hz
Network: 10/100/1000 Mbps
Internal Harddisk Dock
Android
Ports and Connections:

2 x USB 2.0 Host
1 x USB 3.0 Slave
1 x SD Card Reader
IR Extender Port

Dimension:

Height: 57mm
Length: 188mm
Width: 210mm
Content:
1 x Popcorn Hour A-500 PRO
1 x Remote Control
2 x AAA Batteries
1 x High Speed HDMI Cable
1 x USB 3.0 Slave Cable
1 x AC Power Adapter
1 x Quick Start Guide
1 x Warranty Card