After a period of tarnishing its brand, Proton is back in the limelight thanks largely to the line Onix, pointing to the band "audiophile", and the marketing of valid integrated home theater. The AVS-2583, the latest Proton, is presented with an aesthetic dominated by the golden hue of the front, and when added to a large display, dall'illuminzione adjustable to different intensities, flanked by lights indicating activation of Dolby -Digital and DTS.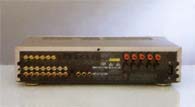 The group of commands is very simple, since it consists of a single knob used for the volume control and two series of buttons, one for the selection of the inputs, the other for the control of auxiliary functions. The rear panel includes four digital inputs, three coaxial and one optical, in addition to three analog inputs. The A / V sources can also count on the S-Video. Strangely absent is the input 5.1 channel, there are the outputs for the use of external end on all channels, in addition to that for driving an active subwoofer. The remote control, type extra thin and unusual for this kind of electronic, did not seem to build it up as an integrated AVS-2583, although it gives you access to all its functions.
Listening AVS-2583 has exhibited remarkable exuberance and a willingness provision not very common for a "simple" 50W per channel. The clarity and the focus of the play are among the other most interesting features. Aesthetically pleasing thanks to the champagne-colored finish and the simplicity of the front, it reflects prerogative also in terms of implementation, free of complexity typical of the category that includes the multi-channel amplification. Drawn from them, therefore, benefit sonic performance, especially in a machine of this class.
LABORATORY
Output power in continuous regime (5 channels driven)

| | Left front | Left back | Central | Right back | Right front |
| --- | --- | --- | --- | --- | --- |
| 8 ohm | 37.6 W | 38.1 W | 38.1 W | 36.1 W | 37.0 W |
| 4 ohm | 42.2 W | 45.3 W | 39.9W | 39.4 W | 41.3 W |