More Details
Satellite dishes production TELEWIRE, following precise and rigorous machining paths.
The reflectors offset arrive for processing in aluminum plates of different sizes and are printed in a single shot by a press fully automated and subsequently painted, while the reflectors are first galvanized steel and then painted. All the parts of the media spotlight is made of galvanized steel and are processed in 99% of cases cold.
The twenty-year experience in making molds of various kinds, has allowed the construction of antennas with mechanical characteristics, such strength and wind resistance, that fully reflect the needs of most qualified installers and European regulations in safety factor.
Continuous testing are carried out on materials in the wind tunnel and in the laboratories, to ensure resistance to extreme climatic conditions and a long life.
The antenna of 100 cm has recently been amended in the media and is now similar in concept to the supports of other antennas in range.
This change allows a further improvement in the mechanical strength which translates into greater safety of installation also in windy areas.
The size of this model guarantees a perfect reception even with dual feed installations for the central-zones.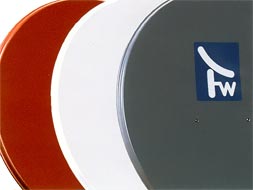 In order to make the environmental impact as low as possible, the antennas with a diameter of 84 cm and 100 cm in aluminum are available in three different colors: light gray (standard), dark gray, red brick.
Technical data:
| | |
| --- | --- |
| Receiving frequency | 10:00 ÷ 13:00 GHz |
| Dimensions spotlight | 94.5 cm x 101.5 cm |
| External dimensions | 97.0 cm x 104.0 cm |
| Efficiency Ku band | > 70% |
| Gain at 11 GHz | 40.0 dB min |
| F / D Ratio | 0.66 |
| Attack for converter | 25-40-60 mm |
| Elevation angle | 15 ° -45 ° |
| Offset angle | 21 ° |
| Material Reflector | Aluminum |
| Rear mount material. | Galvanized steel |
| Option to att. polar | 1088 |
| Option for multifeed | 4705E / 4705N |