The spread of high-resolution display is this phenomenon well as to professionals as lovers. It is not hard to find in the home televisions with full HD resolution by the diagonal also extremely high, and it is not uncommon for movie fans in the home opt for a projector combined with a retractable screen mounted a ceiling.
Given this high popularity of the display to large diagonal, also because of the reduced overall thickness, it is matched by a potential difficult to place the devices connected to them. Often for furnishing needs, or just for technical, the distance between the video source (Blu-Ray, decoders, PC or whatever is used) and display can even exceed 10 meters by requiring the use of long cables and expensive, not always easy positioning by virtue of their diameter and the thickness of the connectors.
In market there are HDMI cables that come up to a length of 30 meters, but longer, or in order to ensure greater simplicity in the installation, it may be useful to adopt extender devices with which two devices equipped with HDMI connection, They are interfaced with each other using an HDMI cable but not using a traditional Ethernet cable.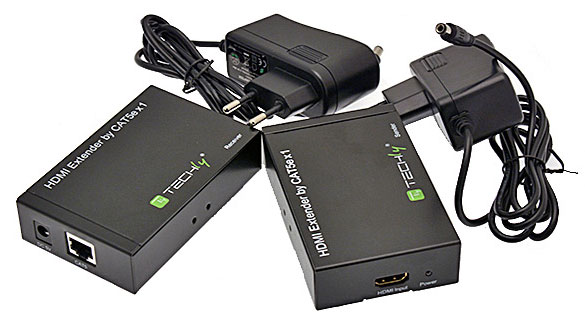 An example is what has been proposed by Techly with ' HDMI Extender over CAT5 / 6 50m, whose name already puts out clearly the main technical features. The connection between devices, with HDMI, is through an ethernet cable type 5e or CAT 6, with the possibility to reach a maximum distance of 50 meters with a resolution of 1080p.
Supported video formats ranging from standard definition up to 1,080 vertical pixels, which is 1080i 1080p. For each video channel is ensured a bandwidth of 165 MHz /1.65 Gbps, with color depth of 8 bits for each of the 3 channels (24bit in total). Even the audio component is managed by this link up to a maximum of 2 channel uncompressed LPCM.
Extender in the box there are two steel box identical, one sender to be connected to the video source and one receiver to be connected to the display adopted, each with a alimentatoreche size follows the pattern typically supplied with the smartphone. Not missing a user manual and installation, complete the information provided, and two small L-shaped brackets that allow to mount sender and receiver onto the products to which they are connected. Missing altogether the connection cables HDMI and Ethernet, which must be purchased separately according to need.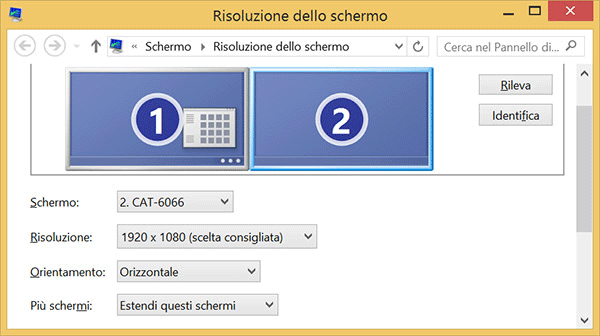 Installation is quick: related sender and receiver power is time to configure the display, in this case the secondary display of a notebook, with screen resolution default. Completed this quick procedure you are ready to send your favorite images to the screen, also accompanied by stereo audio signal if present.
Although based on Ethernet cables CAT 5e and CAT 6, this product can not be connected within a network structure. Receiver and transmitter are not equipped with IP address and the connection between the two components are physically with an ethernet cable, but not exploiting the protocol. In this case are the technical characteristics of the cables and the convenience of installation and use to explain the choice to connect the two devices of transmission and reception of the signal. Suffice for instance think of the ease with which an ethernet cable can be laid in a duct of reduced diameter and terminated with the connector at a later time, something that certainly can not be said for a HDMI cable is for the size of the connector both for the high number of internal cables which makes very difficult the termination with the connector.
HDMI Extender over CAT5 / 6 50m is proposed at about € 120.00 tax included, that figure may appear to be high but is justified for those installations where the distance between the devices is very high and difficult to run a cable connection that has a diameter greater than that of the Ethernet standard.