Simple to use and install, but also versatile in the use of all types of smart cards more widely, the Manhattan Smart Card Reader is the ideal solution for offices, health care, banking, but also just in private.
The product can be useful for the digital signature (and therefore to authenticate in the chamber of commerce and the Inland Revenue), plus a variety of authentication services by the public administration. It can also be interesting in this period of interest for the precompiled module 730, it could also be used to authenticate online at the tax office.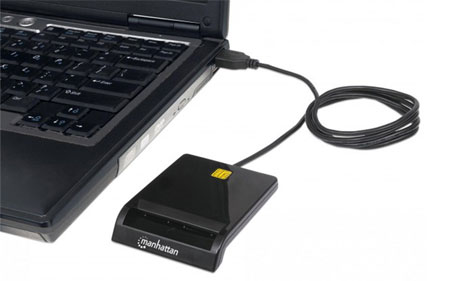 Extremely portable and lightweight, but strong at the same time, the reader is made entirely of ABS and simply presents classical entrance to the cards, an LED notification that the inclusion of those provisions and a built-in cable length of about 1 meter. It is fully plug and play, in fact, just plug it into any USB 2.0 input for installation in a few steps to use it immediately with all kinds of cards supported.
Compatible with all popular systems Windows, Mac and Linux, as well as with ISO 7816 A, B and C, PC / SC Version 1.0 / 2.0 standard and EMV 4.1 for chip cards and Syncrone 2-line, 3- line, SLE4418, 4428, 4432, 4442, AT88SC1608, 45D041 and I2C interfaces for memory cards.
Below are more details on product specifications.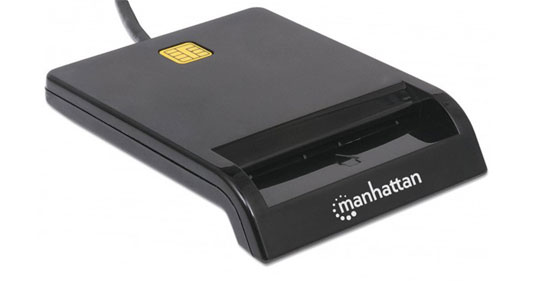 Reader / Writer Smart Card USB 2.0 Manhattan:
(CODE: I-CARD CAM-USB2)
Specifically for CIE, CNS, CRS and all smartcard most widespread in Italy
Authentication at the Revenue Agencies (eg. 730 download precompiled)
communication speed up to 12 Mbps
microprocessor cards: ISO 7816 Class A, B and C (5 V, 3 V, 1.8 V), PC / SC Version 1.0 / 2.0 standard and EMV 4.1
memory cards: Syncrone 2-line, 3-line, SLE4418, 4428, 4432, 4442, AT88SC1608, 45D041 and I2C interfaces
life cycles: over 200,000 entries
integrated USB 2.0 cable to 105 cm
material: ABS
Package content: reader / writer, smart card, quick installation guide, CD with drivers, API library and demonstration program.
Price: € 12.40